This page sets out our proposals for the Kingfisher Leisure Centre site as shared with the community in July 2021. You can now view our latest designs here and have your say!
A brand-new world-class leisure facility for Kingston
We are looking to comprehensively redevelop the Kingfisher site and create a new landmark destination that provides an inspiring and welcoming setting for people to come together.
Our proposals have been shaped by the important feedback you gave us through two phases of engagement earlier this year. You can see how you have helped shape the proposals here.
In addition to your feedback, our design team has been guided by the following principles:                     
Promote participation in sport and an active lifestyle
An outward looking building that connects with its surroundings
A stronger relationship to Kingston town centre
Respect local architecture and heritage, particularly the neighbouring museum and library
The new community leisure centre will not just be about competitive sports and exercise. We are also looking at including a range of fun activities for children, making this a destination for all the family.
These facilities will include:
A clip and climb
A 'splash deck' area for children to play in the pool
Soft play
Teaching pool suitable for children's swimming lessons and leisure swimming
Images showing what the clip and climb and toddler pools could look like.
Creating a cultural destination
As well as a new community facility for sport and physical activity we want to bring together other complementary, community uses and use this opportunity to extend leisure and well-being activities into the surrounding public space, helping improve people's physical and mental well-being.
Our proposals include new outdoor space which also better celebrate the neighbouring Kingston Museum and Library, creating a new destination for leisure, well-being, learning and culture. This will help to diversify our local economy beyond retail and ignite a vibrant leisure and cultural scene.
We are currently exploring ways to achieve a better connection between the new building and the Kingston Museum and Library. This could be achieved in a number of ways – for example through shared public space, connecting building or a covered connecting entrance.
Option 1 – open public realm
We want to create a range of welcoming spaces for everyone to enjoy – from vibrant public places to play areas for families and quiet spots to sit and relax.
As well as new indoor facilities, the proposed new public spaces will provide an opportunity for a range of different outdoor activities. This will include spaces for outdoor sports, walking or play.
In addition to new spaces, we also want to encourage people to make more use of the neighbouring Fairfield Recreation Ground. We will do this by upgrading existing play equipment, providing complementary facilities on our site, and creating better visual and physical connections between our new building and the existing green space.
We want these to be exemplar public spaces. We will strive to lead by example and set a strong precedent for all future development in Kingston.
Image showing how existing greens spaces will better connect with new public spaces, and how these may be used.
We know that the original Kingfisher Leisure Centre was not very accessible for all our residents, particularly those with mobility issues. We are committed to ensuring our new community facility will reach much higher accessibility standards and be a welcoming space for all our residents.
To ensure everyone is able to enjoy the new facilities, our early proposals include: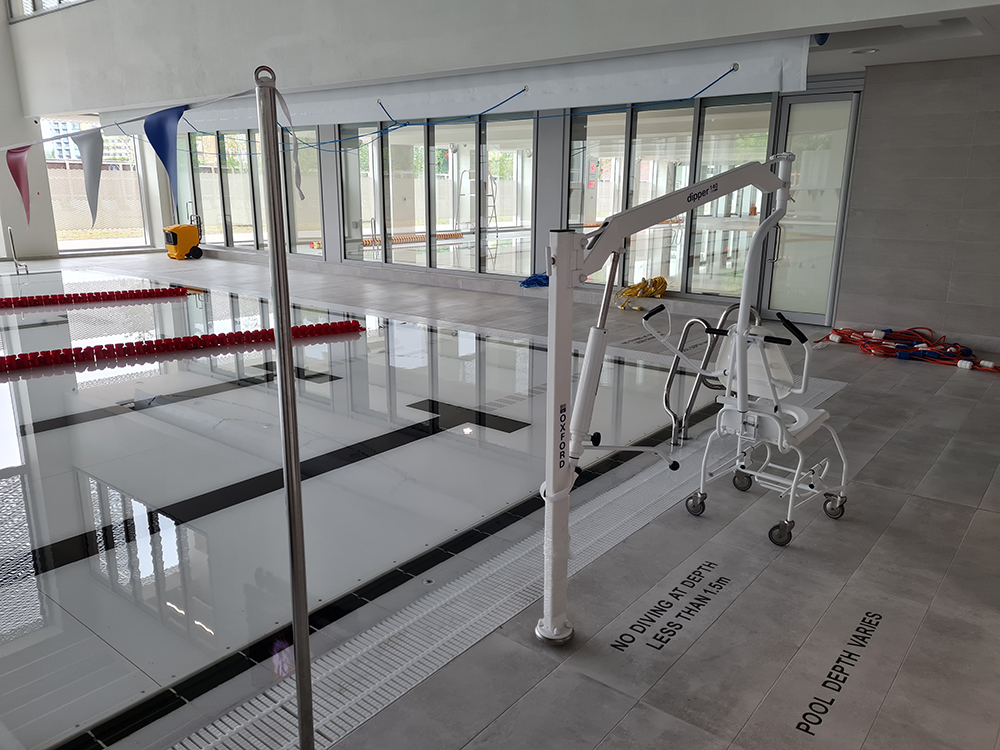 Genuinely sustainable development
The current Kingfisher building is not sustainable and performed poorly in terms of sustainability and energy efficiency. This was a key driver in our wish to redevelop it. Our new proposals will significantly improve the environmental performance and we are exploring ways to make this a genuinely sustainable development, fit for the future.
The new community leisure focussed building for the Borough will be exemplar in design and at the cutting edge in terms of sustainability. 
To achieve this, the building will:
Targeting BREEAM Excellent' by incorporating:
Natural ventilation to sports hall
Mixed-mode ventilation strategy in gym –using a combination of natural ventilation and mechanical systems
High performance building envelope which minimizes the transfer of thermal energy, creating an energy-efficient building.
Opportunities for natural light to reduce need for artificial lighting
The separation of pool hall (warm) and gymnasium (cool)
Encourage biodiversity through:
Biodiverse roof areas and rainwater harvesting
Encourage green transport through:
Provision of better pedestrian and cycle routes
The new facility could also eventually be powered by energy recovered from the sewage treatment process as part of Kingston's "poo power" scheme with Thames Water, announced earlier this year.
We are at the early stages of considering what we might deliver on the site of the Cattle Market car park.
Given its location right next to the proposed new community and leisure facility, we need to consider how this site interacts with the new public space and leisure facility.
This site presents an opportunity to deliver much-needed new town centre homes, particularly affordable homes, potentially alongside a mix of other uses.
We want to hear from you about what kinds of homes or other uses you would like to see here. We will consider the feedback you give us and share our early plans for the site later this year.
We are currently considering options for transforming the Monday Market, which currently takes place at the Cattle Market, into an open-air street market in a nearby location. We will be engaging with market traders and the wider community about the future of the Monday Market.
Indicative location for potential new development on Cattle Market car park site